| | |
| --- | --- |
| Males (2 black, 3 yellow): | |
| Male 1st Pick – Elder – NV – 3/17 (ylw) | Sold |
| Male 2nd Pick – Nesset – ID – 3/22 (blk) | Sold |
| Male 3rd Pick | Available |
| Male 4th Pick | Available |
| Male 5th Pick | Available |
| | |
| Females (2 black, 1 yellow): | |
| Female 1st Pick – Renaldo – ID – 2/10 (blk) | Sold |
| Female 2nd Pick – Oconner – WA – 2/26 (ylw) | Sold |
| Female 3rd Pick – Young – 3/1 (2/9) (blk) | Sold |
Price – Male / Female:
AKC Limited Registration (non-breeding) – $750
AKC Full Registration – $1,700

To reserve a pick of the litter or puppy, call/text Derrick at 208-451-0523 or email him at derrick@idahoakclabs.com. If you have read our "Terms of Deposit" and "Puppy Purchase Agreement" and would like to reserve your pick now, use the drop-down option and "Pay Now". The payment amount due is $309 ($9 for the processing fees) payable by credit card or Paypal account. The $300 is applied toward the full purchase price of the puppy. The order of reserved picks is the order in which deposits are received. We do not take any deposits until the litter has been born. We do not maintain a call back list so check the website, call or text for litter updates.
Deposits are non-refundable so please review our Terms of Deposits which also explains the time frame of when your reserved pick must be exercised and our Puppy Purchase Agreement.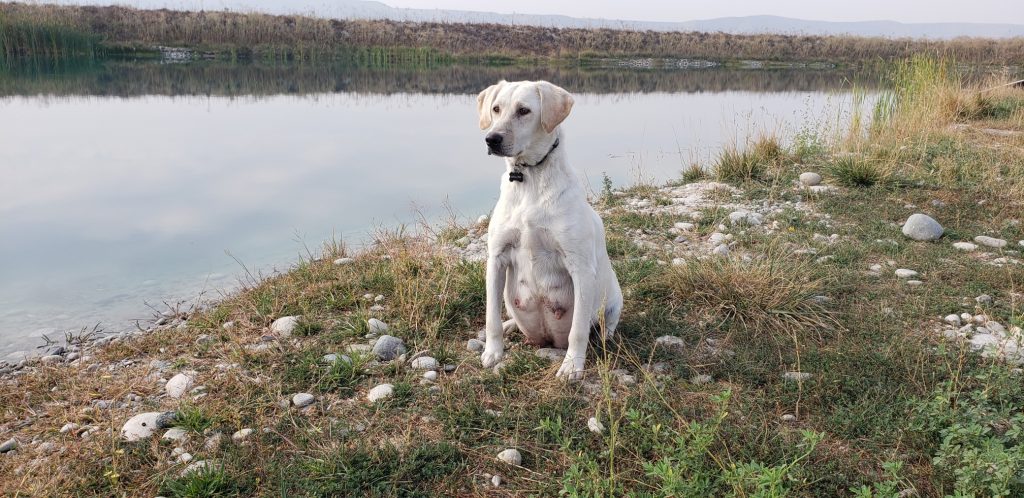 I checked early this morning in preparation for your texts and calls but unfortunately, no puppies have arrived.  When I went back to play with her, it was obvious her demeanor has changed.  She doesn't want to leave her whelping box and wouldn't give me much attention.  The pups are coming sooner than later.  I would estimate within the next 12-24 hours. 
Whelping, or the process of birthing the puppies, is not a quick process.  It often takes 45-90 minutes between the arrival of each subsequent puppy.  This gives her a chance to clean up each puppy and take a break before the contractions start, initiating the arrival of the next puppy. 
With the advance notice she's given, I'll get the page created and updated as soon as she whelps.  The arrival announcement page may go live before she finishes, but the option to reserve picks won't be available until she finishes.  When she finishes, I'll activate the buttons enabling the reservation of picks.  I will have a prominent link on our home page as well as a link under the navigation link "Puppy Updates."