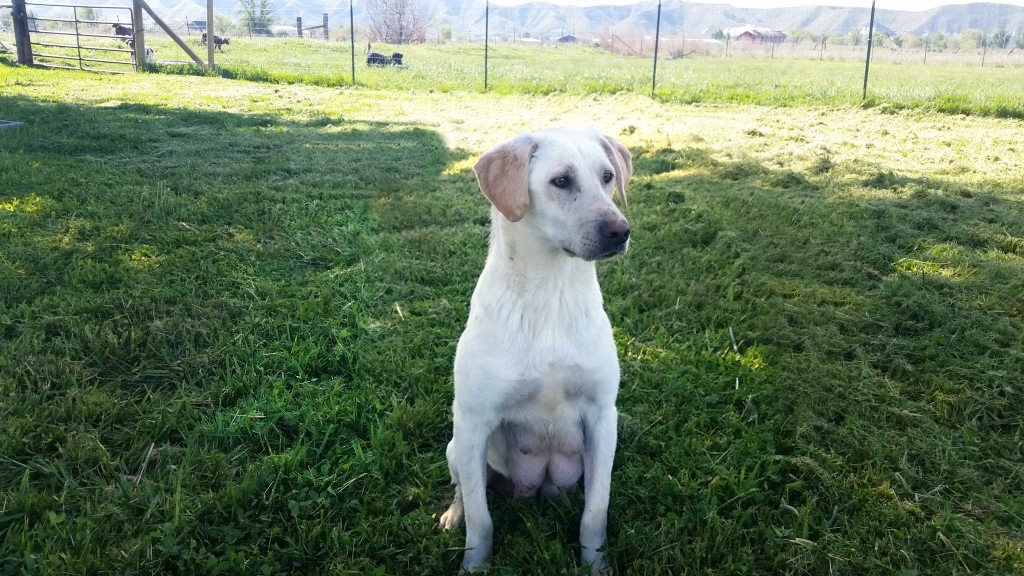 Willow's
– All Puppies Have Been Reserved –
Born September 25, 2020
Willow X Rex
These puppies are 0 wks (1 days) old.
$1,400 Male/Female AKC Limited Registration (non-breeding)
$2,400 Male/Female AKC Full Registration (breeding)
Important Dates:
6 Weeks – 11/6 – 1st Vaccinations
7 Weeks – 11/13 – Selection Starts, Puppies Going Home
With current COVID-19 concerns and restrictions, we'll schedule sequential selection visits to coincide with taking your puppy home.  
| | |
| --- | --- |
| Males (2 black, 1 yellow): | |
| Male 1st Pick – Kearns – 9/25 – UT | Sold – Ylw |
| Male 2nd Pick – Panko – 9/25 – ID – Blue | Sold – Blk |
| Male 3rd Pick – Hilliard – 9/25 – ID – Black | Sold – Blk |
| | |
| Females (2 yellow & 2 Black): | |
| Female 1st Pick – Zeigler – 9/25 – ID – Purple | Sold – Ylw |
| Female 2nd Pick – Kindelt – 9/25 – ID – Teal | Sold – Ylw |
| Female 3rd Pick – Lough – 9/25 – ID – Pink | Sold – Blk |
| Female 4th Pick – Applegate – 9/26 – ID – Red | Sold – Blk |
Price – Male / Female:
AKC Limited Registration (non-breeding) – $1,400
AKC Full Registration – $2,400

To reserve a pick of the litter or puppy, call/text Derrick at 208-451-0523 or email him at derrick@idahoakclabs.com. If you have read our "Terms of Deposit" and "Puppy Purchase Agreement" and would like to reserve your pick now, use the drop-down option and "Pay Now". The payment amount due is $309 ($9 for the processing fees) payable by credit card or Paypal account. The $300 is applied toward the full purchase price of the puppy. The order of reserved picks is the order in which deposits are received. We do not take any deposits until the litter has been born. We do not maintain a call back list so check the website, call or text for litter updates.
Deposits are non-refundable so please review our Terms of Deposits which also explains the time frame of when your reserved pick must be exercised and our Puppy Purchase Agreement.
In well over a decade, we've never had a case of parvovirus in our kennel, unfortunately, we've been hit.
We had two of three, sixteen-week-old puppies that were current on vaccinations, contract the parvovirus.  These pups had never traveled off our property and no outside dogs or individuals have visited our kennels.  As we reviewed our processes and precautions with our vet, he assured us that parvo is ubiquitous, virtually everywhere.  He explained that the Treasure Valley has been hit by an especially aggressive strain of parvovirus with numerous unvaccinated (any parvo is very bad for these dogs) and fully vaccinated dogs showing up in clinics around the valley and reducing the available supply of plasma.
After great effort, we did lose one of the pups and the second female is home recovering after a long hospital stay.  The parvovirus destroys the lining of the intestines.  This reduces the nutrition the body is able to absorb as well as allows toxic bacteria to leach into the body and bloodstream increasing the chance of sepsis.  She is still a sick girl struggling to gain weight but we are glad to have her home.
The presence of parvovirus on our property greatly increases the risk to our upcoming litter.  There seems to be a general consensus that the incubation period is 4-7 days with some suggesting up to two weeks.  We are committed to ensuring that our customers receive healthy puppies, so this presents a challenging situation.
If we lose any puppies after/if picks are reserved, the affected deposits will be refunded immediately.  If a puppy becomes symptomatic within two weeks after going home, the puppy must be returned to us for treatment and the price of the puppy will be refunded.  If a customer is unwilling to return the puppy for treatment, the maximum medical reimbursement we can offer will be the purchase price of the puppy.  The hospitalization and treatment are very expensive, Puppy #1 cost $1,400 and didn't survive, Puppy #2 cost $3,400 and is still recovering.  Depending on the vet and the level of treatments provided, costs can exceed $10,000.
This has been a tragedy for our family and we apologize for the stress and uncertainty this may cause you.
This poor girl is loaded down with puppies, but that doesn't deter her love of retrieving or the water.  She probably relishes the weightless feeling she enjoys while swimming.  Her trademark launch into the water is now a bit awkward and cumbersome.  We are anxiously awaiting the announcement of her puppies and look forward to meeting you.  Until then, enjoy Willow.